Venue & Hospitality
Welcome to the Official Attendee Housing Site for 14th World Congress on Breast Cancer Research & Therapies which will be held in the historic and beautiful city of Rome, Italy. We will update soon with the venue details
Conference Dates:
Hotel Services & Amenities
Audio/Visual Equipment Rental.
Business Center.
Business Phone Service.
Complimentary Printing Service.
Express Mail.
Fax.
Meeting Rooms.
Office Rental.
Photo Copying Service.
Secretarial Service.
Telex.
Typewriter.
Video Conference.
Video Messaging.
Video Phone.
ATM.
Baggage Storage.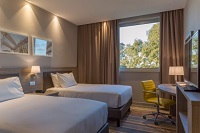 About City
Rome stands as a living testament to millennia of human history and cultural evolution. Known as the "Eternal City," Rome is a place where the past seamlessly intertwines with the present, where ancient ruins and modern life coexist in a harmonious blend. Its streets are like open-air museums, revealing layers of stories etched into the very fabric of its cobblestone lanes.
Rome's history dates back to the legendary foundation by Romulus and Remus, but its true rise to prominence began as the center of the Roman Republic, transforming into the sprawling Roman Empire. The remnants of this ancient empire are scattered throughout the city, from the grandeur of the Colosseum, where gladiatorial battles once roared, to the Roman Forum, the heart of political and social life. The Pantheon stands as a testament to architectural brilliance, its dome a marvel of engineering even by modern standards.
Rome's significance goes beyond its temporal power; it holds immense spiritual importance as the heart of the Roman Catholic Church. Vatican City, an independent enclave within the city, houses St. Peter's Basilica, the epicenter of the Catholic faith, and the Vatican Museums, which showcase centuries of artistic treasures amassed by the Church. The Sistine Chapel, with Michelangelo's iconic frescoes, is a place of profound contemplation.
Amidst its historic grandeur, Rome remains a vibrant and thriving city. Bustling markets, lively neighborhoods, and the ever-present hum of daily life create a dynamic energy that complements its historical significance. The narrow alleyways of Trastevere offer a glimpse into the city's local life, while upscale shopping districts like Via Condotti cater to modern tastes.
Whether you're strolling along the Spanish Steps, tossing a coin into the Trevi Fountain to ensure your return, or gazing at the sunset from Gianicolo Hill, Rome casts a spell that transcends time. The play of light on ancient ruins, the resonance of church bells, and the laughter of people savoring la dolce vita - all these elements come together to create an unforgettable experience that captures the essence of Rome, the Eternal City.